Stopping by "The Ellen DeGeneres Show" for a scheduled interview to be aired Friday, August 24, Vanessa Hudgens was quizzed on several personal questions about her on-and-off screen lover Zac Efron, his kissing skills and favorite breakfast among the other things. She, moreover, also talked about doing waltz on one of "High School Musical" film and her birthday gift for Zac.


Keeping her lips sealed at first when talk show host Ellen DeGeneres asked her if Zac is a good kisser, Vanessa simply gave a big thumbs up when Ellen wouldn't let her dodge the question, keep pressing her by saying "Well, you've got to say yes!" To that the young actress responded with a smile, "OK, yes, fine." Ellen then jokingly said, "You can't not answer that question!"

Besides addressing Zac's kissing skills, Vanessa also talked about his favorite breakfast, claiming he likes to eat certain raw food. Instead of being the kind of a cereal guy, Zac indeed is "more of an eggs kind of guy," Vanessa revealed, adding he sometimes "just drinks them."

Going into more details about Zac, Vanessa told Ellen, "I like (Zac's hair) back," when referring to his hairstyle that she likes best. Asked on what she got him for his 21st birthday last Saturday, October 18, Vanessa didn't say her exact gift, simply saying, "I haven't given it to him yet. I'm kind of late. It's something for a house."



vanessa hudgens and zac efron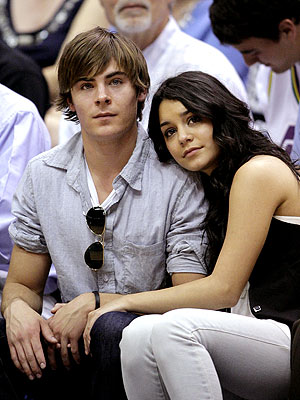 vanessa hudgens and zac efron