High School Musical Characters-Sharpay Evans
Name: Sharpay Evans
Family: Ryan Evans (Twin Brother), enjoys spending time with mother and father at their country club; Lava Springs
Education: High School, co-president of the drama club and star of many, many school musicals!
Summer Activities: Having an absolutely fabulous time at the Evans's country club, with pools, spas and lifeguards always just a few steps away.
Romantic Relationships: Sharpay has her sights set on Troy, for both futhering her musical career and because she can see how nice a person he really is...right?
Crushed On By: And there is Zeke! The basketball-playing-chef who only has eyes for Sharpay.
Best Friends: Sharpay has her faithful drama club at East High, and the country club girls (or "Sharpettes!") at Lava Springs to take care of her business...


The all-singing and dancing, sparkling Sharpay Evans is East High's resident drama queen; a driven and determined girl, who harbours a passionate love for both the theatre...and herself.
Sharpay is most comfortable either on centre stage under the spotlight, or relaxing at her family's country club; Lava Springs.
Sharpay is also convinced that the only guy for her is Troy - afterall, the are the most popular students in school, so it just makes good sense for them to be together.
Will Sharpay's tentative friendship with Gabriella, Troy and the rest of Wildcats carry on into and after their senior year at East High! You need to watch High School Musical 3 to find out!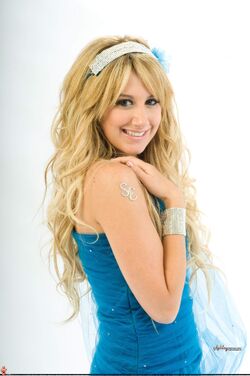 High School Musical Characters-Sharpay Evans